And then all our hopes fell quite flat.
The free parking pass we had planned on ended up being a bust.
While we were indeed early enough to get a good parking space, there was also a lot of time to kill in the cold early dark with a sleepy/hungry/cranky kiddo, which was quite a challenge until he finally fell asleep for a while.
Conditions were very windy. Too windy for the early Dawn Patrol balloons to go up. It also turned out to be too windy for ANY balloons to go up. So no mass ascension, no sky packed with colorful balloons, no awestruck joy from toddler. :(
Only a few balloons inflated for display while we were there. And this was pretty much the only good photo from the few we took.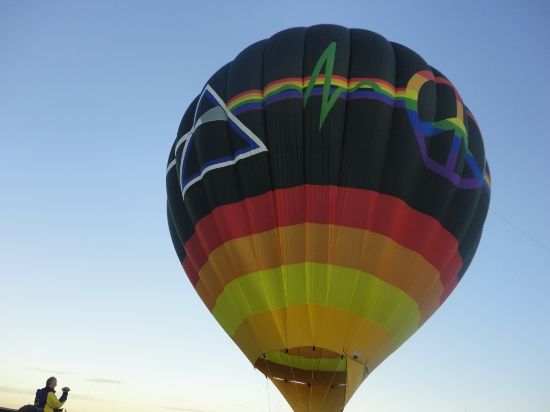 At least it was the Pink Floyd balloon!
Ah well. Despite the disappointment, I think we'll try again next year. I still can't wait to see how happy he will be when he gets to see that balloon-filled sky. And it made me realize how much I missed that sight as well.
So the Albuquerque International Balloon Fiesta just ended on Sunday, and I went for the first time in many years. Lots of locals skip the 10-day event and just enjoy the balloon sightings all over the city, because getting to the actual event can be a pain (you have to wake up super early, around 3 or 4 am, get bundled up to brave the cold and sometimes windy weather, and head over to the balloon fiesta park, which is usually backed up with lots of traffic on the way in and out). This year two things coincided to make my visit happen: I had been wanting to take my son for his first visit (I just knew he would love it, plus he recently was really into the Curious George spring special that featured hot air balloons) and an out-of-town family member arrived for a visit and came upon some free tickets. So off we went!
Current Location:

laptop

Current Mood:

okay